Gay Boat Trip
Welcome to the new website of Gay Boat Gran Canaria.com
The Original gay boat trip ! Every Friday we sail out with a nice group of happy gay guys. Pickup is at the mini golf in the Yumbo. We leave at 14:15 so make sure you be there around 14:00h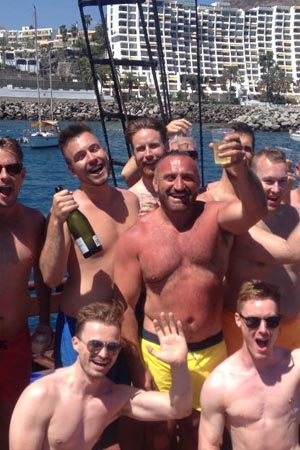 From here we drive to Puerto Rico, where the catamaran will be waiting for us. With a nice music on board and the combination of sun, waves and of course us gay guys, we goto a little beach passing arguineguin, puerto rico and even mogan.
Meanwhile it is optional to do Parasailing, we have an agreement with them which give you a 50 percent discount, so it only cost you 25euro. Arrived at the small beach you can have a swim, snorkling or just relax on board. Here the lunch will be prepared. And also the Banana boat or speed boat will be here. (included in the price). Optional is jetski which is 25euro per jetski, which you can do alone
or together with a hot guy of your choice ;-)
The price is per jetski, not per person.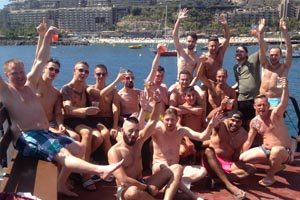 The food will be mostly a nice pasta, with fresh fruits and salade
Most drinks are included in the price like: Water, softdrinks, beer and Sex on the Beach (the cocktail)
After eating there is still time for a nice dive in the water and then we will go back to the habour of Puerto Rico. You can expect be to back in the Yumbo around 20:00h
Gay Boat Trip Gran Canaria
Make your reservation

Book now for only 49 euros p/p
Call +34 639 16 1002
David
Or book online, select date you want to ENJOY the boat trip
Like our website Gay Boat Gran Canaria
And like our facebook page